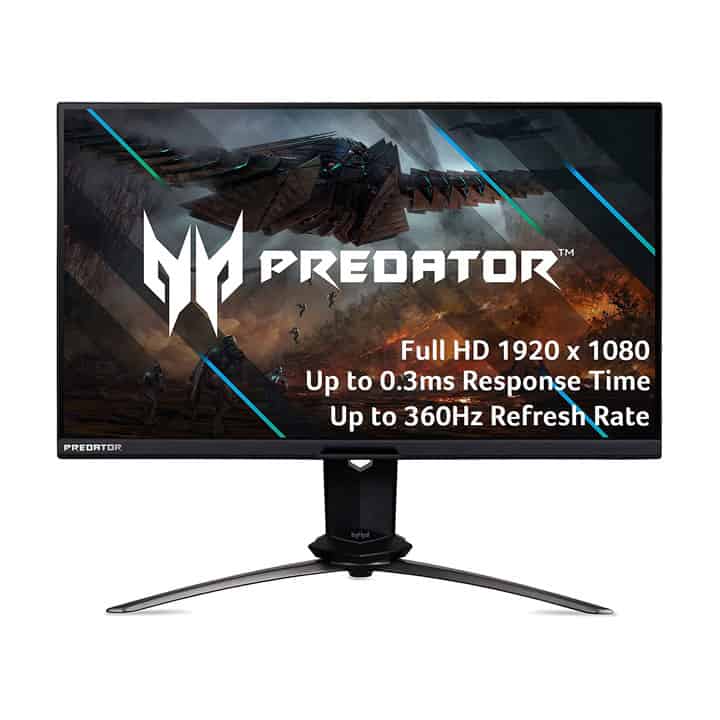 Acer Predator X25 Gaming Monitor has a 360 Hz Refresh Rate and 0.3 ms RT
If you are faming junkie and looking fir an affordable gaming monitor, look no further than the Acer Predator X25. This versatile and stylish gaming monitor has a super fast 360 Hz refresh rate with a 0.3 ms GtG response. The display size of 24.5 inches and super thin bezel, lets you take in every gaming angle without the distraction of thick bezels.
Powered by NVIDIA G-SYNC technology that provides smooth, tear-free immersion during every game, this monitor is a mist have for the avid gamer. In addition, NVIDIA reflex latency analyzer measures the exact time for your clicks to translate to on-screen movements provides smooth delay-free engagements during gaming.
The Acer Predator X25 features ergonomic tilt, swivel, pivot, and height adjustments and with five USB ports, there is a connection for virtually everything. Finally, latest vision care technology lets you stare for hours at color-rich landscapes without eye fatigue.
Wickedgadgetry.com is a participant in the Amazon Associates Program, an affiliate program that allows sites to earn fees by linking to Amazon.com and affiliated sites.