Seven Exciting Inflatable Pool Floats for your summer enjoyment!
Summer is here and there is nothing more enjoyable than relaxing pool side, on the lake or at the beach.  When the temperature and humidity soars outside, the next best thing to do is to head for the nearest body of water to take a dip and stay cool.  Whether that body of water is your backyard or neighborhood pool, lake or beach you will need the perfect inflatable pool float to enjoy the water and have some fun with friends and family.  We feature seven pool floats for adults, kids and babies that are not only unique in design but colorful and large enough to fit the tallest adult and most importantly affordable.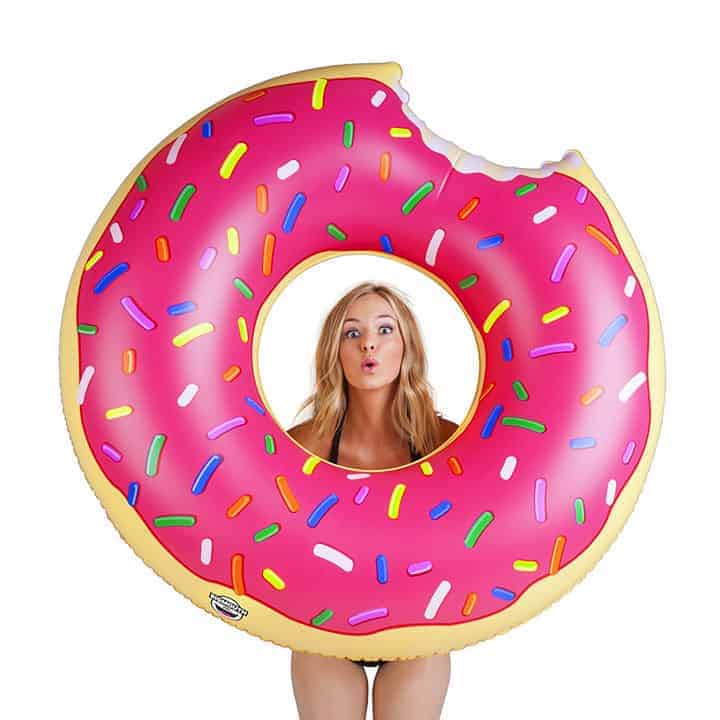 BigMouth Gigantic Donut Pool Float
Take a bite out of summer with your own personal gigantic donut pool float.  This gigantic floating donut features pink frosting and colorful sprinkles that will dazzle you and friends on the water and turn heads.  Made of extra-thick durable vinyl and measures 4 feet in diameter.
The Cost? $19.99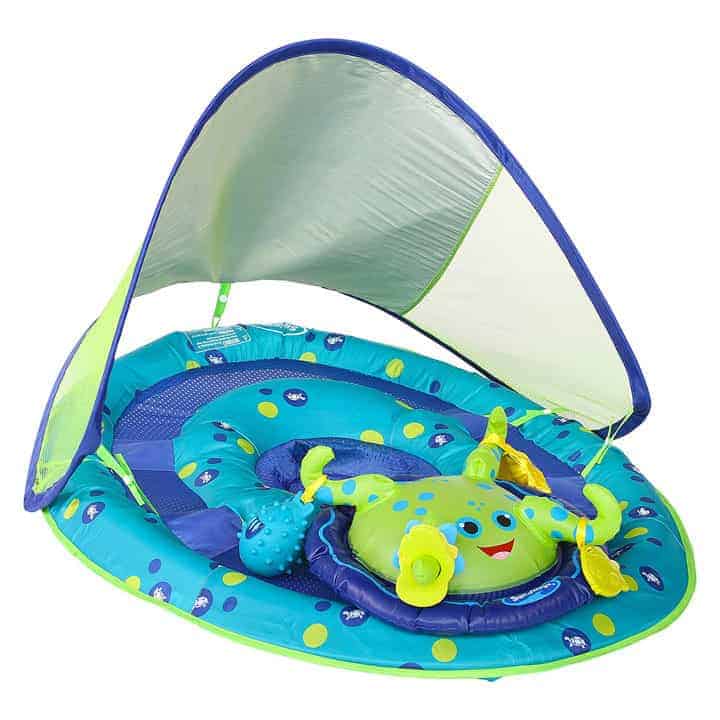 SwimWays Baby Pool Float with Canopy and Activity Center
Introduce your baby to the water with the Baby Spring Float.  This brightly colored inflatable floaty has fabric covered inflation and a soft mesh seat for durability and comfort.  Low center of gravity and separate air chambers ensure security and stability while in the water.  It also features an activity center and a rotating octopus character with a toy attached to each tentacle that your baby can touch and activate.  Removable two-position canopy offers UPF 50+ sun protection and the mesh sides of the canopy lets you to keep an eye on your baby at all times.
The Cost? $27.70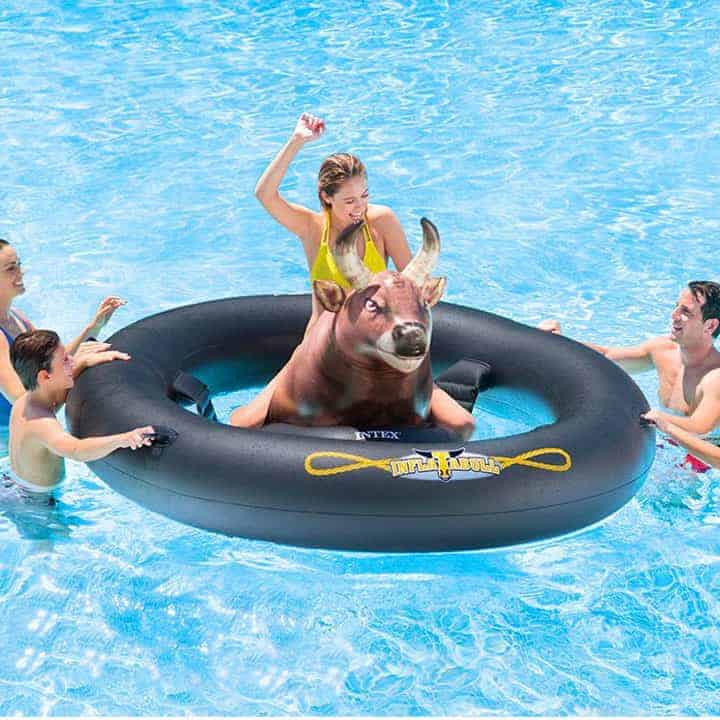 Intex Inflat-A-Bull Pool Float
Enjoy a bull-riding experience on the water with the Inflat-A-Bull Pool Float.  Take turns with your friends busting a bull and see how long you can remain mounted.  Designed with innovative photo-realistic printing technology and durable 17.5 gauge vinyl with 3-air chambers and durable grab handles. Measures 96" x 77" x 32".  This floating bull is guaranteed to provide hours of challenging fun on the water.
The Cost? $49.95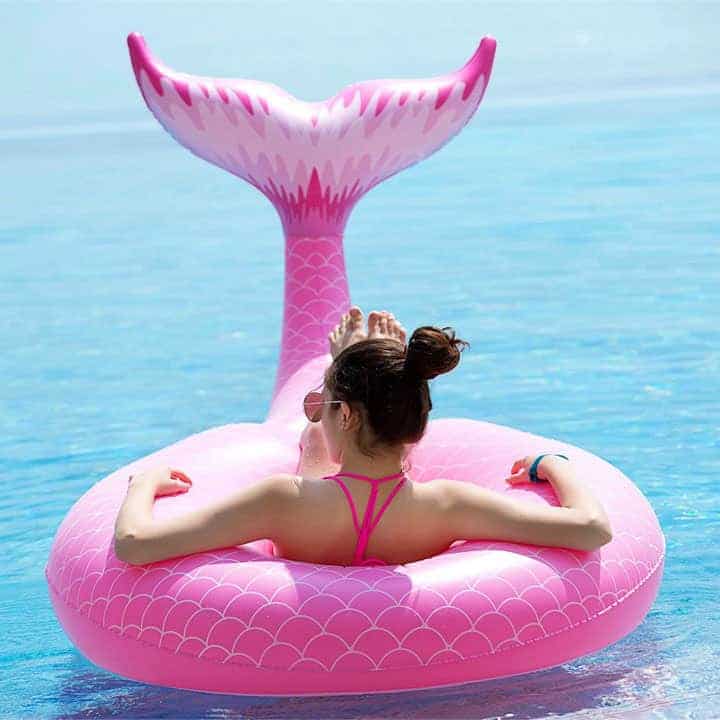 Jasonwell Giant Inflatable Mermaid Tail Pool Float
Relax on the water and enjoy the summer sun with the Giant Inflatable Mermaid Tail Pool Float.  Throw one of these pink mermaid pool rafts into your pool and relax in style.  Super-fast inflation and deflation with rapid valve technology lets you enjoy it in seconds.  Made of durable high-strength premium vinyl and measures 82.7" x 45" x 43.5" when inflated.
The Cost? $23.99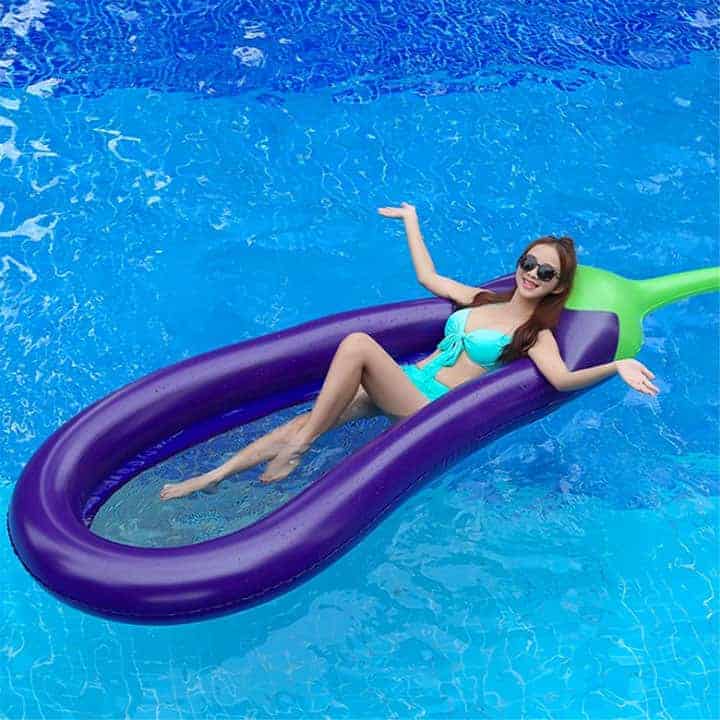 Sea Plan Giant Inflatable Eggplant Pool Float
The Giant Inflatable Eggplant Pool Float is the perfect way to balance the hot temperatures of the summer and the cool water in the pool.  The mesh bottom of this eggplant shaped float allows the user to feel the refreshing cool water of the pool while lounging.  Measures a whopping 106" x 43" after inflation and can hold up to 300 pounds.  Unique design double protection air valve makes it easy to inflate and deflate.
The Cost? $26.99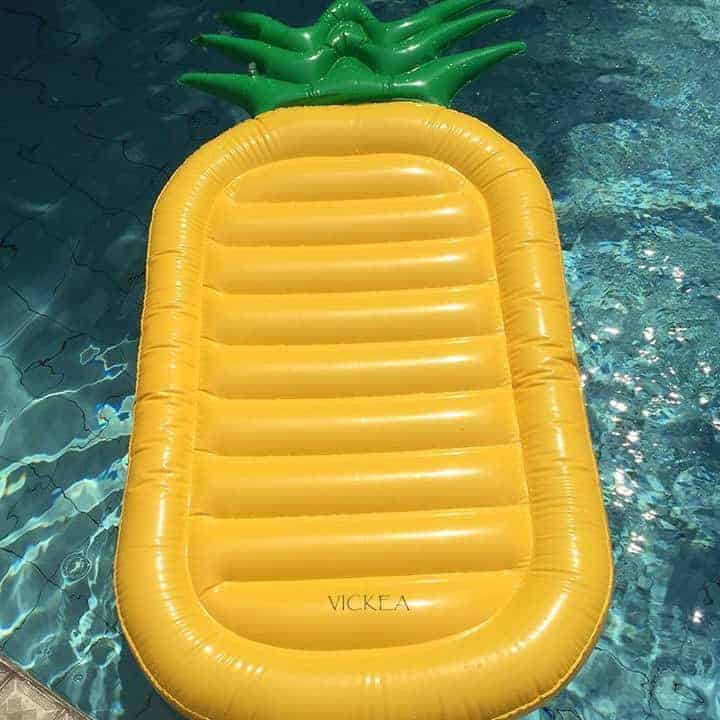 Vickea Inflatable Pineapple Pool Float
Wind down and relax on a giant pineapple with the Inflatable Pineapple Pool Float.  This uniquely designed pool float measures a whopping 76" and can hold up 300 pounds.  Made of thick, soft durable premium raft-grade non-phthalates material, the pineapple float is the perfect float for pool relaxation.
The Cost? $25.99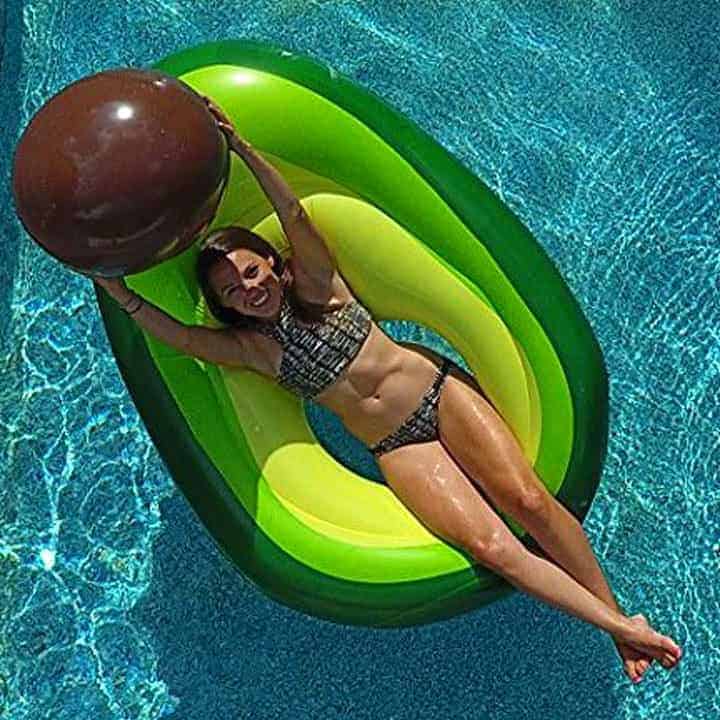 Flōtēz Inc. Luxury Inflatable Avocado Pool Float
Unwind and relax pool side with the Luxury Inflatable Avocado Pool Float with beach ball pit.  Designed in the shape of a real avocado with realistic colors and features a removable beach ball colored and shaped like the seed of an avocado. Measures 5.5' long and 3.5' wide the avocado float makes for an excellent summer float for use in a pool, at the lake or on the beach.
The Cost? $39.99