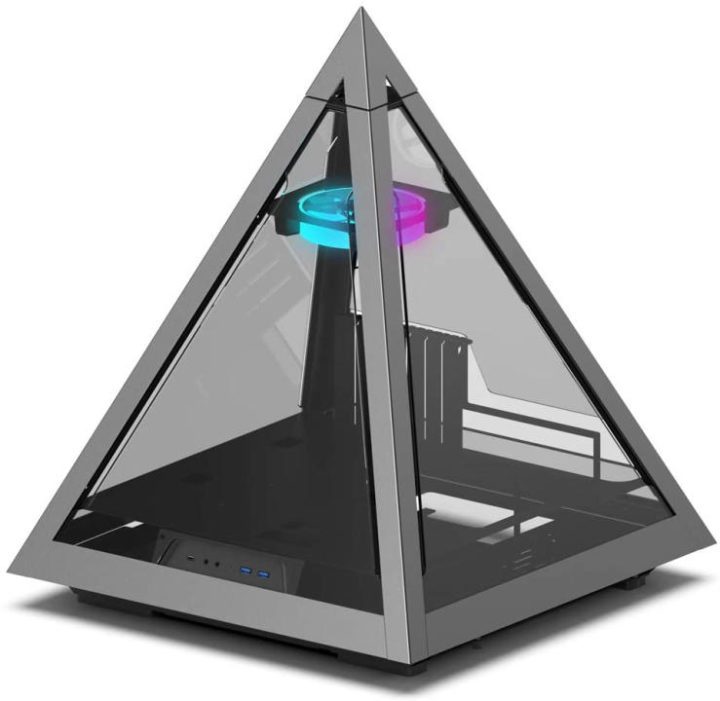 Who says PC cases have to be square, this innovative Pyramid PC Case with RGB Fan challenges the notion that PC cases have to be square or rectangular boxes. Traditional PC cases have always been rectangular boxes with high-end systems in square boxes to accommodate more hardware. However, why settle for an average rectangular case when you can upgrade to something unorthodox with this pyramid shaped case.
The AZZA Pyramid 804V is a unique pyramid shape PC case with tempered glass side panels on all four faces and a 120mm Hurricane II digital RGB fan included. The RGB fan allows you to customize the color output to your hearts desire. This case is not just to show off its beautiful build from all angles but a real PC case able to support most builds that would fit inside any conventional rectangular mid-tower case.
It can support an EATX motherboard, 300mm long video card, 2×2.5″ drive bays, 1×3.5 drive bay, and a water cooling radiator up to 360mm on the bottom of the case. The 804Vis an updated version of the original 804 model with the new model allowing a video card to be inserted directly into the motherboard with the need for an extension cable, resulting in it being mounted the way it was intended to be. No matter what you decide to put into this case, it will prove to be a functional and eye-pleasing case in any circumstance, just be sure to place it somewhere where your friends can't accidentally sit on it.
Wickedgadgetry.com is a participant in the Amazon Associates Program, an affiliate program that allows sites to earn fees by linking to Amazon.com and affiliated sites.