The Pineapple Easy Slicer and De-Corer Easily Slices Your Pineapple!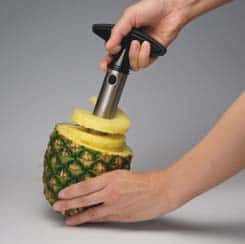 Enjoy a pineapple without the hassle of cutting and peeling the skin with the Pineapple Easy Slicer and De-Corer. The Pineapple slicer will peel, core and slice a fresh pineapple in 30 seconds saving you the time to enjoy your favorite fruit. The slicer removes perfectly formed rings while leaving the core in the shell. Made of 18/10 durable and stylish stainless steel and dishwasher safe, the slicer effortlessly removes cores and slices retaining all the juice in the pineapple with minimal waste. Create one slice at a time or cut up the whole pineapple at once.   Makes perfectly shaped rings and preserves shell intact to use as a bowl. Measures 4.5 x 3.4 x 9.5 inches and weighs 7.2 ounces.
Our Opinion
We all love to have Pineapple but hate the time and mess it takes to peel and prepare. This gadget takes all that away and saves the time so you can enjoy your Pineapple in half the time it would take to prepare it by hand. The Pineapple slicer is a tool you must have in your kitchen if you are fruit lover. Affordable, durable and easy to clean, check it out below.
What's the Cost? $8.50

You May Also Like: Generic Carrot Cucumber Sharpener Peeler Kitchen Gadget Tool